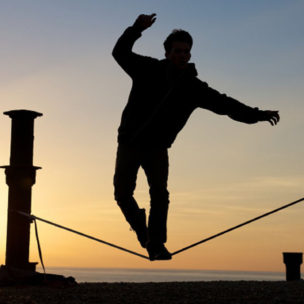 By Chris Marks
I recently spoke to a cohort of CEOs at GAN's Scale School about the process of raising a Series A Financing. Everyone in the group had raised seed financing in the past and was focused on follow-on capital. My task was to shed some light on the mentality of a series A investor, and how it may differ from that of an angel or seed investor. An interesting topic. The truth is, while seed financing is all about vision, and series B rounds are all about performance metrics, the series A financing tends to be a much more nuanced conversation. More often than not, the success or failure of any series A process rests in an entrepreneur's ability to strike the right balance on several different fronts. Here are a just a few elements of the series A balancing act that we discussed:
Be confident, but also be vulnerable. You have always been confident in your business, and now you have some early performance data that shows you might just be right. Make your case to potential investors. At the same time, know that they do not expect you to have all of the answers — yet. Therefore, the challenge is to express why you remain bullish, while at the same time acknowledging the challenges ahead. It is what First Round Capital has called "building credibility through vulnerability."
Move fast, but take time to listen to the market. A long drawn out process can kill any financing. The goal is always to build momentum and keep investors moving through the funnel. The challenge is to make sure that you are still hearing and processing the market feedback along the way. As investors fall out of the process, work hard to understand why. Every pitch is an opportunity to assess what is resonating and what is not. Work to anticipate and address the biggest investor questions. Adjust your presentation accordingly. The ability to be patient, while also being nimble, will give you the best chance of success.
Create scarcity, but don't bluff. This is one of the hardest balancing acts for most entrepreneurs. Scarcity is the single biggest point of leverage in any process. It builds momentum, drives better terms and gets investors off the fence. As a result, most entrepreneurs try to create scarcity by getting more VCs involved in the process, mentioning other meetings, and referencing where other investors are in their diligence — which is all very appropriate. If, however, investors determine that false deadlines are being created, other investors' interest is being over-stated, or term sheets that have been referenced don't really exist, the whole exercise can backfire. Do create momentum. Do not undermine your credibility in the process.
Show confidence in your team, but acknowledge the need to upgrade. Every seed round pitch deck ends with the team slide and the unequivocal statement that "this is the team to get it done!" This resonates with seed investors who invest heavily in people. Series A investors also value good people, but they expect some portion of their capital to be used to grow the team, and to bring in people with more experience building at scale. Acknowledging this fact, while continuing to support your existing team, gives comfort to prospective investors. Your team is great, and now it can be even better.
Sell hard, but always be honest. No one believes in your company as much as you, and you are certain that several of the leads in your pipeline will be paying customers in no time. You want to communicate your confidence to those who are considering an investment. It is fine to sell your vision, just don't create unrealistic expectations in the process. Your series A investors will be your partners for a long time. They will be showing up at your board meeting next quarter. Therefore, it is very important to make sure you are fully transparent before they commit. The only thing worse than not getting your financing done, is getting it done with misaligned investors.
Focus on your top choices, but never assume the deal is done. There is one investor who is saying all the right things, and promising a term sheet in the near future. They are your first choice of a partner. That is all great, but in the world of venture, a deal is not done until it is done. For the good of your company, never stop creating alternatives. It will only increase the likelihood of getting your top choice over the finish line.
The bottom line is that raising series A financing can be a challenge, and every process will have different twists and turns. A successful outcome may well hinge on your ability to strike the right balance when you talk about your business. And as you navigate the various conversations, never lose sight of the biggest balancing act of all: raising money may be important, but finding the right partners is essential.